Last Updated on Aug 13, 2022 | 02:17 by Tommy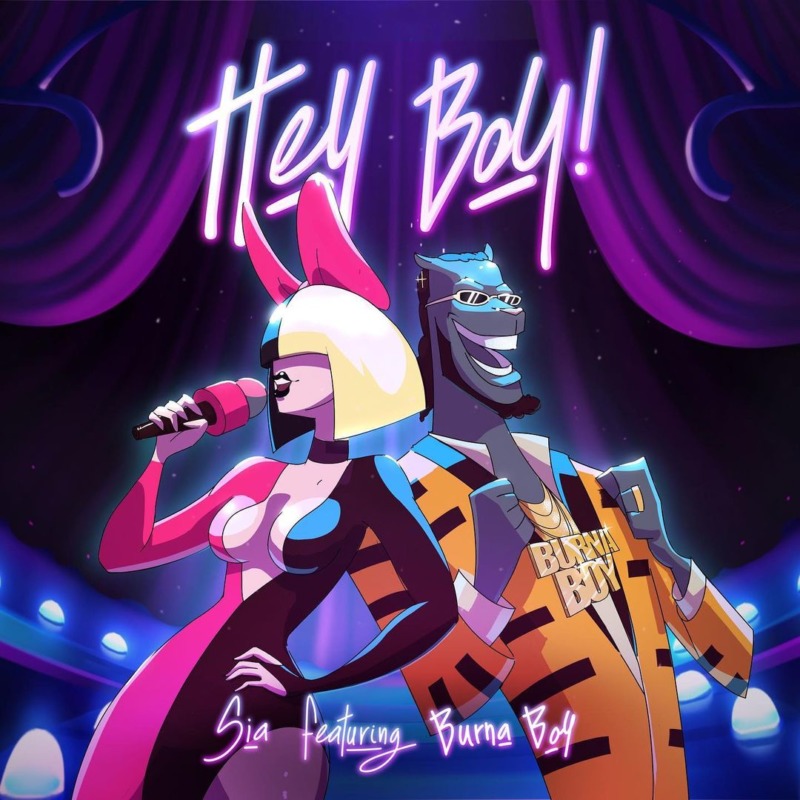 Sia starts the new year 2021 with this impressive pop single titled "Hey Boy" which features Burna Boy.
International recording artiste, SIA teams up with African Giant Burna Boy to serve us a world version of the track – HEY BOY. This song is a Pop record with a spice of Afrobeat and Reggae.
Sia Kate Isobelle Furler (born December 18, 1975), popularly known as Sia, is an Australian pop singer and songwriter. She is also part of the supergroup, LSD alongside, British singer, Labrinth and American DJ, Diplo. Before her solo debut, Sia also lent vocals to British acid-jazz duo, Zero 7.
Her album 1000 Forms of Fear was released in 2014 and is her most successful album to date, with the top 10 single "Chandelier."
After performing for nearly 15 years at night clubs as well as releasing five studio albums, Sia took a hiatus from performing in 2010 when she began writing for other artists. Some of her most successful collaborations are "Titanium" with David Guetta, "Diamonds" with Rihanna and "Wild Ones" with Flo Rida.
Sia famously started hiding her face during her recent promotional cycles and public events. She has stated that because when she started to become a little bit famous, it felt destabilizing for her in some ways. In order for her to maintain a certain amount of privacy, she focused on writing for other artists and started covering up her face with the famous wig.
Sia has the most music videos with over a billion views on YouTube of all-female artists, with 5 videos having reached at least one billion views. She has received a wide range of awards, including a total of 8 Grammy nominations. Sia also has had 8 of her songs go double platinum in record sales. She continues to remain a force to be reckoned with and a powerhouse singer-songwriter in the entire music industry.
Today January 14, 2021 Sia drops her first single titled "Hey Boy" to set off the year and warm her fans up towards the released of her forthcoming album – MUSIC.
Music Album (songs from and inspired by the motion picture) is a 14 track music project scheduled for February 12th, 2021 and also will feature the tracks "Together," "Courage To Change," & more. You can Pre-order the album HERE.
Watch, Listen and Enjoy 'Hey Boy' featuring Burna Boy from the soon to come Music album by Sia.
[youtube]https://youtu.be/JO0KjMapUqY[/youtube]
Director: Rafatoon
Production Company: Dreambear
Executive Producers: Dave Gelb and Evan Brown
Video Commissioners: Trevor Joseph Newton & Derec Dunn
Animation: Tunjayork and Apus Studio
Sound Designer: Dalton Harts
Agency/Agent: Reveur / Emily Sanders
The post Sia – "Hey Boy" ft. Burna Boy (Song) first appeared on tooXclusive.